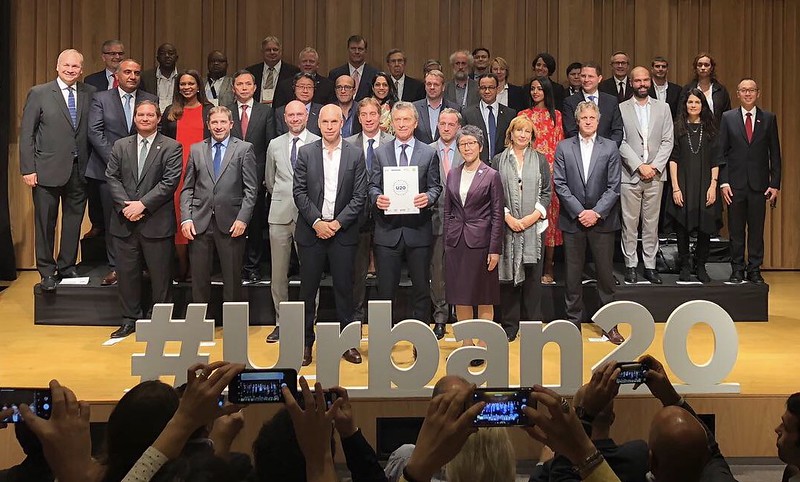 U20 in 2018
In Buenos Aires, 35 Mayors and city representatives gathered at the first Urban 20 Summit (U20) at the invitation of Mayor Horacio Larreta on 29 and 30 October, 2018. They pledged to promote dialogue and cooperation between the G20 and cities around the world and presented a common position to G20 President Mauricio Macri.
The Summit's output was the 2018 U20 Communiqué to G20 nations from the mayors of their major cities calling for countries to "work hand in hand with us to achieve our collective goal of fair, inclusive, and sustainable development", and contains U20 cities' recommendations on climate change, the future of work, social integration, women's empowerment and access to finance. The communiqué was shared with the President of Argentina and President of the 2018 G20, Mauricio Macri, who committed to share it with world leaders at the 2018 G20 Summit in Buenos Aires.
The U20 2018 Communiqué was signed by the mayors or governors of 34 cities: Amman, Amsterdam, Beijing, Berlin, Buenos Aires, Chicago, Dallas, Durban, Geneva, Hamburg, Helsinki, Houston, Kuala Lumpur, Jakarta, Johannesburg, London, Los Angeles, Madrid, Mexico City, Milan, Montevideo, Montreal, New York, Paris, Portland, Quito, Rio de Janeiro, Rome, Sao Paulo, Seoul, Tel Aviv, Tokyo, Tshwane, Sydney and supported by the city of Moscow.
Specifically, it called on G20 member states to work with cities to implement a series of measures including:
Fully and rapidly implement the Paris Agreement, to achieve emissions neutrality by 2050 and keep global atmospheric temperatures from rising above 1.5°C.
Accelerate a global shift away from fossil fuels toward clean and renewable energy, including carbon pricing that reflects the social cost of carbon.
Collaborate with cities in developing and implementing education, training, skill-building, apprenticeship systems, and employment programs.
Improve women and girls' access to education, skills, training and financial support to enhance their economic empowerment.
Work proactively to make societies more inclusive, welcoming, peaceful, safe, and discrimination-free by providing spaces and opportunities for all people to interact, build connections, and form meaningful relationships together.
Support the social integration of migrants and refugees, by helping them overcome specific barriers to participation and inclusion.
Simpler and more direct access to financing for city governments in order to achieve sustainable urbanisation.